Our Team
Our Mission
Our Team
Samuel D. Sedosky Jr., CPA
Owner/Sole Member
Professional Experience
Sam is the sole owner of Sedosky & Associates, PLLC. He has over 15 years of public accounting experience that includes taxation, accounting and consulting with extensive small business, production and construction knowledge. Sam works in the areas of financial accounting, tax planning, and business consulting. Taxation areas include fiduciary, multi-state, consolidated returns, mergers & acquisitions, start-ups and more. In addition he has 10 years private sector experience in the textile industry focusing on management, production and quality control in the United States and overseas.
Sam also serves as the Chair on Freedom Bank's Board of Directors in Belington, WV.
Areas of Specialization
Small Business
Construction
Oil & Gas Industry
Timber Industry
Auto Dealerships
Litigation Support
Business Valuation Services
Education & Membership
West Virginia University - Bachelor of Science Degree in Business Administration
CPA Certification
Member - American Institute of Certified Public Accountants
Member – West Virginia Society of Certified Public Accountants
Personal Interest
Sam resides in Lewis County with his wife, Amy and their daughter Kinley. He enjoys hunting, fishing, hiking, camping, and golf.
Tina E. Bartlett, CPA (WV & FL)
Senior Tax Accountant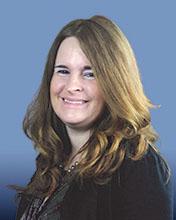 Professional Experience
Tina is a senior level tax manager with Sedosky & Associates PLLC and has over 15 years of experience in private, public and governmental accounting with extensive federal & state tax knowledge. Tina works primarily in the areas of financial accounting, strategic planning, tax planning and consulting for individuals and businesses. Taxation areas include multi-states, international, consolidated returns, mergers & acquisitions, start-ups, and more.
Education & Memberships
BA, Accounting, University of Central Florida (1997)
MBA in Entrepreneurship, Finance, & Systems Management, University of South Florida (2001)
CPA Certification FL (2004); WV (2014)
Member – West Virginia Society of Certified Public Accountants
Member- AICPA- American Institute of CPAs
Linda Poe
Staff Accountant & QB Pro Adviser
Amy Sedosky
Office Manager